Information on Trump's Immigration Executive Order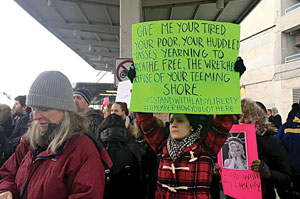 President Donald Trump's Jan. 27 executive order to prevent citizens from seven countries from entering the United States sent tremors of fear, dismay and anger through Queens, one of the world's most ethnically diverse counties.
Elected officials representing Queens at the city, state and federal level vowed to protect the borough's immigrants as they lambasted Trump's order. Meanwhile, Queens immigrants and the advocacy rights groups that support them were stunned by the president's move, although some immigration service representatives said that there was no immediate need to panic.
On Saturday, a federal judge in New York granted an emergency stay on Trump's executive order that would restrict entry to persons from Iraq, Syria, Iran, Sudan, Libya, Somalia and Yemen for 90 days. Trump's other immigration-related initiatives covered by last week's executive orders are his plans to move forward with the construction of a border wall between the United States and Mexico and punishment for sanctuary cities that refuse to hand over illegal immigrants for deportation.
At John F. Kennedy International Airport—where at least 50 people were detained, many of whom were later released, last weekend and another two were deported— a massive crowd assembled on Saturday to protest Trump's orders, blocking airport traffic and marching from terminal to terminal. Protests also sprang up at numerous other airports across the nation, including Los Angeles, San Francisco, Dallas and Washington, D.C.
U.S. Sen. Charles Schumer (D-NY) spoke at the JFK rally alongside Hameed Darweesh, an Iraqi man who worked as a translator with the U.S. Army for a decade and had been detained at the airport.
"We are here today to deliver a vociferous 'no' to both the president and these misguided executive orders that undermine American security, put our soldiers and intelligence community in harm's way and pervert core American values," Schumer said. "We are saying 'no' to the misguided executive orders because they are bad for America, bad for our national security and because they are so un-American. They go so much against what America has always been about."
In the days since Trump's executive order, immigrants who work and live in Queens said they were deeply unsettled by the president's actions and uneasy about what further measures he might take that could affect the nation's immigrant population.
Astoria resident Stephanie Park said she moved with her family from South Korea to New York in 1988 and, since then, her family has been undocumented.
She has been enrolled in DACA (Deferred Action for Childhood Arrivals)— which allows certain undocumented immigrants who entered the country as minors to receive a renewable two-year period of deferred action from deportation and eligibility for a work permit— since 2012.
Park, who works at Flushing's MinKwon Center, said she is concerned for the well-being of her family, for whom she and her sister are the breadwinners, especially if Trump takes further action on immigrant protection programs such as DACA.
"It's really up in the air right now," she said of her employment status. "In families such as mine, where only certain members of the family are legally authorized to work, that totally changes the family dynamic."
Sanjeev Jindal, 40, who moved to the United States in 2003 from India and works in southeast Queens, said he contacted the office of U.S. Rep. Gregory Meeks (D-Jamaica) after the president announced the executive order to see how it would impact the immigrant community.
Although he became a citizen in 2007, he said he fears for some of his family members who are green-card holders and friends who are not considered legal citizens.
"The U.S. approves work permits and green cards," he said. "These folks are raising families here in the U.S. Now, all of a sudden, because of these orders, families can be torn apart. This is not right. It's not sending a message of America being in good shape. We are sending a message to the world to see America as a threat. If we send a message that we are against the Muslims, against one particular group, that is the wrong way of thinking."
Jindal said that his 70-year-old mother – who speaks Hindi – has applied for citizenship twice before, but has been turned down due to a language barrier.
"Everyone comes over here [for] the American dream," he said. "Through this action, the president is violating that statement. The American dream is no more."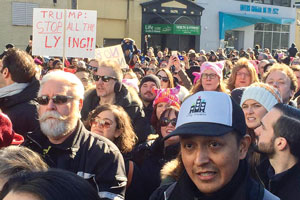 Immigration law experts and borough advocacy rights groups said that while Queens immigrants are understandably alarmed about Trump's executive orders, there are steps they can take to protect themselves.
Antonio Meloni, the executive director of Astoria's Immigration Advocacy Services, said that the implementation of Trump's executive orders— especially in terms of deporting immigrants living in the United States – would take a while to go into effect and likely face legal battles.
"We're telling people to stay calm," said Meloni, whose group assists immigrants in obtaining permanent residency and citizenship. "An executive order is not the law and one such as this will be challenged in court. The implementation of these orders will take a lot longer."
Meloni said he'd advise borough immigrants without citizenship status, green cards or dual citizenship not to travel at this time.
"If you're illegal and you travel, you're self-deporting," he said. "If you're legally here but have had issues with the court, you should contact someone before traveling. But once you leave the country, you lose a lot of protections."
Luba Cortes, a youth organizer for nonprofit Make the Road New York, said the advocacy group has been holding workshops with its members, the majority of whom are immigrants, to inform them of their rights. The Brooklyn-based group has an office in Jackson Heights.
"We have been in crisis mode," she said. "People are angry, people are upset, people are scared and a lot of that fear has turned into pouring out onto the streets and protesting. Everyone is scared because they don't know what it means, but it's also playing out in very scary ways – for example, like Muslims being stopped at JFK."
Cortes said the group has been advising immigrants to "be careful" in their interactions with police officers and ICE (Immigration and Customs Enforcement) officials.
"If immigration comes to your door, don't open the door," she said, adding that persons visited by immigration officials should ask to see a warrant and not divulge their country of origin.
Felipe Alexandre, an immigration lawyer based in Flushing, said he has been inundated with emails from Queens residents asking how Trump's executive orders could affect them.
"My clients ask me if Trump is going to limit asylum laws," he said. "Many of them have pending political asylum cases and we can't 100 percent tell them that he won't do anything. Fortunately, he'd have to go through Congress. I can't think of anything more un-American to do than repeal asylum laws."
Alexandre said other fears among his immigrant clients are whether Trump might repeal the I-601 waiver, which allows a U.S. citizen or permanent resident who has a spouse who entered the country illegally to apply for a waiver rather than go back to his or her home country to apply for it, or DACA.
James Hong, the interim executive director at Flushing's MinKwon Center, said that the 32-year-old center— which specializes in work with that neighborhood's Korean and Chinese American communities, but has an open door policy for all immigrants— held a workshop in December to teach immigrants about their rights and how to interact with immigration officials.
"It's not surprising but it is, of course, very disappointing to see the top executive taking this kind of stance [toward] refugees, who are the most vulnerable immigrants," Hong said of Trump's executive orders. "Clearly, the enforcement side of immigration is going to ramp up. So, we're very concerned about that."
MinKwon provides social and legal services and advocacy and has its own staff attorneys. One of his biggest concerns about Trump's orders is the effect they will have on those aided by DACA.
"Now it looks like they will lose that," Hong said. "Trump hasn't done anything on that yet but, you know, everything points to him either canceling it right away or letting it die. This is a group of young people who came out of the shadows, they got a kind of status and now they are facing having to become undocumented again."
But some Queens immigrants said they agreed with Trump's executive orders.
"[Trump] said 'America first,'" said Tariq Rehmat, president of the United Pakistani American Christian Community. "If America's safe, the whole world's safe."
Rehmat, who moved to the United States in 2006 and obtained citizenship, said that his group, which organizes religious programs and supports conservative causes, is planning a rally in D.C. to thank the president for "keeping his promises."
"This is not about religion," he said of Trump's executive order. "This is about terror and keeping our country safe. [Trump] is not against the Muslim religion. He's against the terrorism."
Hemant Shah, the second vice president of the Queens Village Republican Club and a member of the Jainism religion, said he believes that Trump's orders could use some "fine tuning," but he generally agreed with the intention.
"I think it's a step in the right direction as long as it doesn't hurt the legal immigration process," he said. "We are a country that serves as an example for the rest of the world on humanitarian grounds and we cannot discard that. I believe in humanitarian wisdom. On the same token, I want to ensure that the wrong people do not enter our country. It's a delicate balance, but it's a necessity."
Queens County Republican Club Chairman Bob Turner said the first day of implementing Trump's orders was "haphazard" and "ham handed," but "legal."
"The political hysteria following the drama at some airports is essentially political," Turner said. "President Trump was elected on a platform that featured a better vetting and scrutiny of our border-access procedures and a temporary ban on aliens from high-risk countries until a better screening procedure is in place. He did just that."
However, the borough's sole Republican on the City Council— Councilman Eric Ulrich (R-Ozone Park) – said he did not support Trump's orders. In a Facebook post, Ulrich said that last week's events left him "at odds with [his] own party" and that he wants to live in a nation that "upholds the dignity of every single person."
In the wake of Trump's executive order, Gov. Andrew Cuomo launched a confidential hotline for New Yorkers to report family members, relatives, friends or colleagues who were believed to be passengers arriving in New York, but were missing or possibly detained.
"I never thought I'd see the day when refugees, who have fled war-torn countries in search of a better life, would be turned away at our doorstep," the governor said. "We are a nation of bridges, not walls, and a great many of us still believe in the words 'Give me your tired, your poor, your huddled masses.'"
Elected officials representing Queens— which is known as the "world's borough"— in the state Assembly and Senate have introduced legislation to combat the president's executive order.
U.S. Rep. Carolyn Maloney (D-Astoria), who is a senior member of the House's Committee on Oversight and Government Reform, has called for an investigation into how the executive order came to fruition as well as which federal agencies were consulted and when they were notified, what guidance was given by the agencies and whether the legal analysis to justify the order was vetted by career attorneys at the Justice Department's Office of Legal Counsel. Maloney said she also wants to know whether the White House's political staff overruled agency lawyers on the orders.
U.S. Rep. Grace Meng (D-Flushing) said she would introduce legislation to halt Trump's executive order, which she called unconstitutional. Her bill would prohibit any funds made available by Congress from being used to enforce the president's order.
"The decision by a federal judge to temporarily block this unconstitutional and un-American executive order was a great victory," Meng said. "But we must make sure that it is overturned for good and this legislation would make that happen."
State Sen. Michael Gianaris (D-Astoria) introduced a bill that would prohibit the Port Authority, which administers New York's airports, from utilizing any of its resources to support Trump's executive orders. The bill would prohibit the agency from aiding the federal effort, including through supporting personnel, use of airport facilities or provision of electricity and climate control in areas of the airport being used for detentions.
Trump's actions were denounced by a number of other officials representing Queens, including U.S. Sen. Kirsten Gillibrand (D-NY), U.S. Rep. Joseph Crowley (D-Jackson Heights) and New York City Mayor Bill de Blasio, as well as numerous state Assembly and Senate members and City Council members.
"Vilifying refugees will not make our nation stronger or more secure," Crowley said. "Neither will imposing a religious ban on individuals from predominantly Muslim countries. As a country, we are better than this and should not accept the Trump administration's thinly veiled intolerance as anything but Islamophobia."
Other than taking part in the protests across the city that have sprung up since Trump took office on Jan. 20, some Queens residents are launching initiatives to protect the borough's immigrants.
Jackson Heights' Jaime Weisberg and Astoria's Megan Stotts held a rally in Diversity Plaza in November to support Queens immigrants and, since then, Stotts has launched a Facebook page called Hearts Across Queens, where immigrants can trade government and law contacts.
"I want them to have a safe place to talk," Stotts said.
Weisberg said she had been married to her husband, a native of Mexico who crossed the border without a visa, for eight years before he was able to apply to become a resident. He now has residency status and is eligible to apply to become a citizen.
But Weisberg said that if it weren't for President Barack Obama's administration expansion of the 601A waiver, her family – which now includes two children, ages 10 months and 6 years – might have been forced to leave the country.
She said she fears for Queens immigrants who could be affected by Trump's orders, but has been comforted slightly by the outcry on their behalf.
"These last orders on immigration are frightening," she said. "It's hard to be positive, but it's been really positive to see the response from our community."
Since last fall's rally, Weisberg and Stotts have met with the Arab American Association of New York to organize de-escalation training classes, during which they teach participants how to be active bystanders when witnessing an immigrant being harassed.
Approximately 50 people took part in a recent training session at St. Marks Church in Jackson Heights and more than 100 are on a waiting list to participate in future classes.
Representatives from Queens colleges said they would do everything they could to protect students. City University of New York Chancellor James B. Milliken said the school would protect student record information and "take no action to assist in the enforcement of the immigration laws except as required by law," while Queens College President Felix V. Matos said the school would "support and protect" members of its community.
In the days since the JFK protest, smaller rallies have popped up across the city.
On Jan. 29, Councilman Jimmy Van Bramer (D-Sunnyside) held a "rally against hate" at Astoria's Museum of the Moving Image, where actor Shia LaBeouf has an ongoing Trump-inspired exhibit known as "He Will Not Divide Us." That same day, a larger rally in support of the city's immigrants was held at Manhattan's Battery Park.
City Councilman I. Daneek Miller (D-St. Albans), who is the legislative body's only Muslim, said one of his greatest concerns regarding Trump's order— which he deemed "irresponsible"— is that it might incite violence against immigrants.
"What we are seeing now are vulnerable individuals who hang on every word," he said. "They see a call to action. Whether it is covert or overt, what these actions say is that these people are a danger and need to be addressed. That manifests itself in ways like we saw in Quebec and some of the hate crimes we've seen in our communities."
In the past year, hate crimes in the borough included the fatal shooting of an imam in Ozone Park, an elderly Muslim woman being stabbed to death in front of her husband in broad daylight in Jamaica, several members of the Jamaica Muslim Center's congregation being attacked during one incident and, just recently, a Muslim Delta airline employee who was allegedly harassed and assaulted by a Massachusetts man who entered her office at JFK Airport.
But Miller said he remained optimistic, despite Trump's order, due to the unity he has seen in the opposition from New Yorkers and protesters across the nation.
"This is a time where we must all step up," he said. "New York has seen tremendous support for our Muslim and immigrant community. We have grown too much as a country to digress."
Sanctuary Cities Targeted
As part of his executive orders on immigration, President Donald Trump has threatened to punish "sanctuary cities" that do not comply with federal authorities by refusing to hand over illegal immigrants for deportation.
Based on data collected by the Immigrant Legal Resource Center, there are approximately 364 counties and 39 cities, including New York City, in the United States that have policies limiting cooperation with federal detention requests.
Other sanctuary cities include Washington D.C., Baltimore, Los Angeles and Chicago.
Trump, who has argued that sanctuary cities enable immigrants to commit crimes that could have been avoided had they been deported, is threatening to block federal funding to cities that do not comply with federal law.